Harley St Smile's: Complete Guide to Dental Veneers
It's likely that you've heard of porcelain dental veneers. If you have, you may have wondered whether this particular procedure might help you to achieve your dream smile. But what exactly are veneers, and what is involved in getting them? Are they right for your particular needs? As one of the UK's most experienced cosmetic dentistry practices, the Harley St Smile Clinic has been a field leader since 1988. The specialists here have undertaken thousands of successful procedures, with the application of porcelain veneers consistently proving to be one of the most popular. If you're considering having porcelain veneers fitted to improve the look or functionality of your teeth, please read on to see our specialist advice regarding exactly what is involved in the application procedure and to learn more about how veneers work. By the end, you'll have a much clearer idea about whether they might just be the right choice for you and your smile.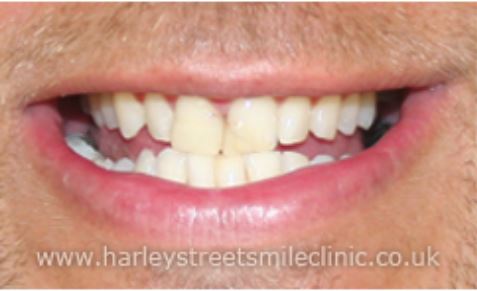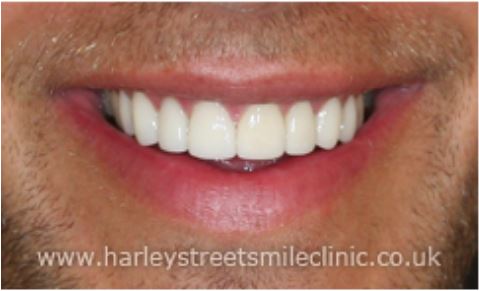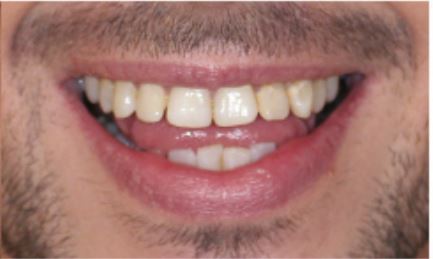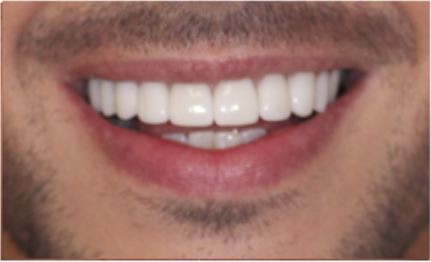 What are dental veneers?
Charles Pincus, a dentist from California in the United States, is credited with creating the first dental veneers way back in 1930. Since then, the application of veneers has become one of the most popular cosmetic treatments available in the world of dentistry – with the techniques involved constantly evolving and improving year upon year until specialists achieved the consistently superb standards we see today. Veneers are most usually made from porcelain – a hard wearing ceramic material that can be easily shaped with delicate precision, beautifully polished and subtly coloured until it appears completely indistinguishable from the rest of your teeth. Some dentists also offer composite veneers, which serve the same purpose as their porcelain counterparts but are made from a form of resin. Both types of veneer take the form of a thin but durable shell of material applied to the outer surface of the tooth to create the impression that it is whole and healthy.
There are numerous reasons why so many more people are opting for veneers now than ever before, though one of the most likely explanations is that, due to incredible advances taking place within the recent history of cosmetic dentistry, their creation has been made easier and their appearance more effective and subtle than ever before. The application of veneers is now a staple of celebrity culture, and you'd be hard-pressed to think of a famous face that hasn't received this particular type of treatment. However, while veneers are superb at simply improving the appearance of your smile and making your teeth appear visibly more symmetrical – giving you that much sought-after movie-star polish – there is so much more they can achieve besides that. Whether gaps between teeth or an uneven bite are causing you problems with your speech, a chipped or displaced tooth or dental sensitivity is making eating difficult, or you simply hate the way your teeth are discoloured, opting for dental veneers could very well prove an efficacious approach to solving your problem. There is also the option to have as many or as few teeth treated with veneers as you choose, depending on your preference – so the treatment is very flexible.
How do veneers work?
On average, excluding their first consultation (which should be free of charge at most dental clinics) a person needs to make two visits to their chosen cosmetic dentist before walking away with a new set of veneers. The first session is to prepare your teeth for the procedure. This usually involves removing a tiny amount of your tooth enamel to ensure each veneer fits flush with the rest of your smile. This can be done under local anaesthetic, but that isn't always necessary as the procedure is rarely painful in any way. If you have areas of decay, the dentist may decide to remove these too to render your teeth healthier and more able to support veneers. Any existing fillings may or may not need to be replaced with new ones to improve the strength of the bond and extend the life of your veneers. The dentist will then take a dental putty mould of your teeth that will be sent away to a laboratory, where your custom-made veneers will be created. Under certain circumstances, you will then be fitted with temporary veneers to protect your teeth and improve their appearance until you are able to return for the second session, which usually takes place less than three weeks later.
At the beginning of the second session, you and your dentist will discuss the look of your new veneers to make sure that you're happy with the shape and colour. Once it is determined that they are a perfect fit, they will then be bonded directly onto your prepped teeth. Hard wearing dental cement is used for this purpose. There may be a little last-minute perfecting and polishing necessary, but at the end of this session the application of your new veneers will be complete. Neither visit should take longer than 90 minutes.
Veneers work very much like natural teeth, and it's important that you try to take care of them in much the same way. Similarly to your existing teeth, they can break or discolour if not treated properly, so be sure to follow a strict dental hygiene regime. Veneers are firmly fixed to the front surface of your teeth, leaving no gaps, so there should be no concern about them coming off or trapping food. It is extremely rare that problems of this kind occur at all, and if they do, they are often extremely simple to fix by just making an appointment with your dentist.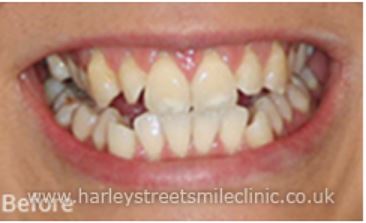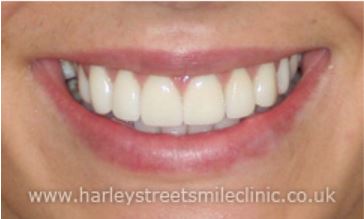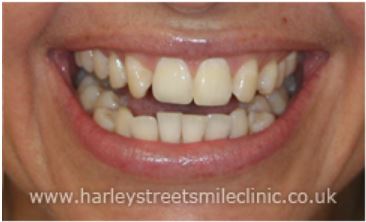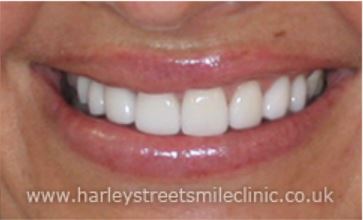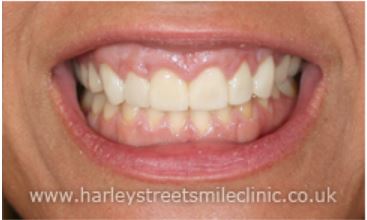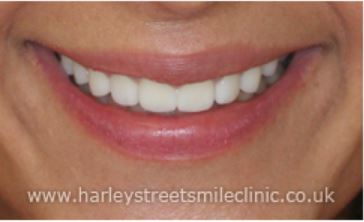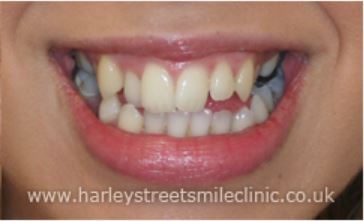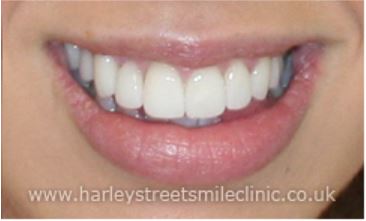 ]
Do veneers hurt?
Though the procedure to affix veneers often involves removing a tiny amount of enamel from the front of the teeth that are due to be treated, you should only ever experience very minor discomfort – akin to a scratch. If you usually suffer from dental pain or sensitivity throughout your day to day life, it is strongly recommended that you inform your dentist during your initial consultation, as you will be able to request that the treatment is performed under local anaesthetic.
Once your first appointment is over, the mould having been applied to your teeth and sent off and your teeth having been sufficiently prepared for the fitting, you should not experience anything worse than a small ache throughout the first day. If your teeth are likely to be sensitive or are particularly exposed, a protective set of temporary veneers may be applied. You should also be comfortable and in no pain once your permanent veneers have been fitted. Porcelain veneers are applied directly to individual teeth and don't put any pressure on them or attempt to alter their placement like braces do, so if you feel any pain or severe discomfort after either of your sessions, it's important that you report this to your dentist immediately and they will work hard to determine and resolve the problem.

Tooth veneers before and after
To see how porcelain veneers could make a difference to your smile, take a look at the individual before and after images on the Harley St Smile's website. You may find that your particular issue can be best resolved using a combination of porcelain veneers and other treatments. For example, the appearance of a particularly "gummy" smile can be improved through simple gum contouring or a gum lift, and any regrowth can be prevented through the application of veneers. After contouring, you may discover that the surface of the tooth below the gum line is more yellow or discoloured than the rest of your smile, so the use of veneers can prove doubly beneficial as they will also help you make your teeth appear more evenly white.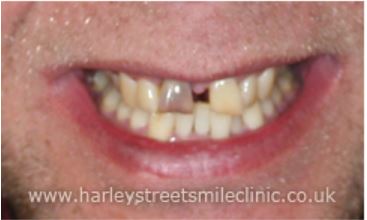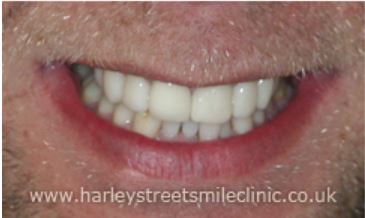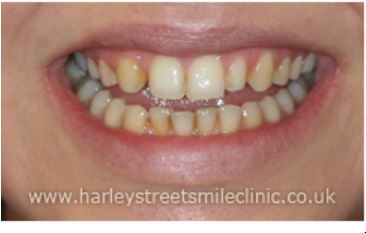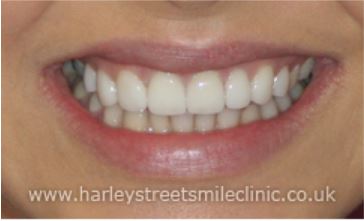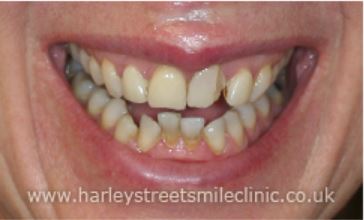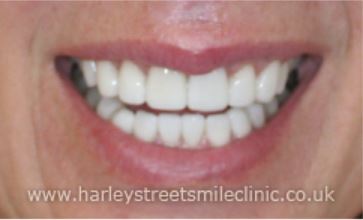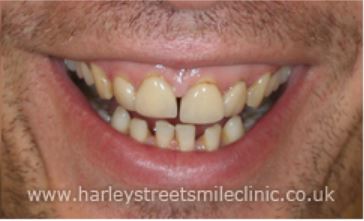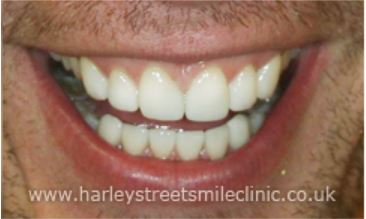 If you have gappy, crooked, worn or broken teeth, they can be "reshaped" using veneers – which also double as a protective layer for worn surfaces that are sensitive through loss of enamel. High quality, professional veneer shaping can give an attractive symmetry to your smile, adjusting the curve of the teeth both along the gumline and the biting edge. It can also give the impression of greater balance in tooth size if you are unhappy with some of your teeth appearing much bigger or smaller than the others.
Whether through wear and tear, fluorosis, tetracycline ingestion or staining, over time, your teeth may become discoloured in a way that you consider unsightly or embarrassing. If this is the case, veneers could also help you to solve this issue. You can choose the shade of porcelain you prefer, thereby controlling the look and brightness of your smile. Porcelain stains less easily than natural tooth material, so your veneers will appear brighter for longer. However, cigarettes, red wine and other things that may come into contact with your teeth can still discolour them, so be sure to take as good care of them.

How long do porcelain veneers last?
 The average set of porcelain veneers, treated carefully with a good dental hygiene regime and regular visits to dentists, should last between ten and fifteen years – though they have been known to last up to twenty. They can be easily repaired or replaced by your dentist, so if you notice any wear or damage then you shouldn't hesitate to get in touch to ask how they can best be treated. Brushing and flossing your veneers regularly, taking care when eating hard or crunchy foods, cutting down on food, drink and habits that might discolour or erode them, discussing and tackling any issues with tooth-grinding with your dentist and wearing gum shields and other protection when playing contact sports will increase their longevity and prevent the need for too many repairs. Remember: veneers aren't that much stronger than your natural teeth, so they need the same amount of care and attention to ensure they stay in perfect condition for as long as possible.
How much do porcelain veneers cost?
The cost of porcelain veneers very much depends on the number you are having applied. On average, the Harley St Smile tends to apply between four and ten per client, with the rest of the teeth undergoing whitening treatment so that the colour matches as perfectly as possible. At the Harley St Smile, porcelain veneers are priced from £795 per tooth inclusive of VAT, so the cost of applying four veneers comes in at £3,180. At your free consultation, you will be provided with a full breakdown of the costs involved. You can also apply for finance to assist you in paying for your treatments if you require it. Veneers can help transform the look of your smile if you have any of the following concerns:
Crooked / Gapped / Protruding / Discoloured / Chipped / Missing Laterals /Overlaps
What are the benefits of porcelain veneers?
While veneers are typically more expensive than other forms of cosmetic dentistry, they are considered by many as an excellent investment due to their multiple benefits. Through the application of veneers your smile can be straightened, strengthen and whitened with just one form of dental treatment while veneers have the additional benefit of looking incredibly natural, to the level where to the naked eye they look just like real teeth.
When properly maintained and looked after, porcelain veneers are a fanastic cosmetic dentistry option for anyone looking to improve and enhance their smile. They are the most naturally looking type of veneers which makes them almost unnoticeable, so people will believe your incredible smile is actually your natural smile.
Main Porcelain Veneers Benefits
Composite veneers can chip, unlike Porcelain Veneers, therefore they require more maintenance. Porcelain Veneers are much more robust, and they only maintenance they require is regular brushing, like with real teeth. Properly looked after veneers can last many, many years without the need for further adjustment from your dentist.
If your teeth are severely discoloured or misaligned then porcelain veneers will have a greater, positive impact on your smile than other veneer types.
Porcelain veneers are designed and shaped to fit proportionally to your mouth and the rest of your smile. So even if you consider your teeth to be too small or too big then porcelain veneers would be the perfect choice for enhancing your smile through cosmetic dentistry from Harley St Smile.
Another benefit is that once placed on your teeth, Porcelain Veneers will not irritate gum tissue.
Additional Veneers Benefits
Because veneers are so strong you will not have to adjust your diet to cut out certain foods.
You will also enjoy the benefit of not having to worry about your veneers staining as unlike natural teeth they do not suffer stains from things like coffee, curry and red wine.
Veneers are designed to replicate the colour of your natural teeth, although these can be whitened first before your veneers are applied if you wish for a whiter complete smile.
Most veneers treatments only take two visits to see your cosmetic dentist and there is no recovery time. While some dental procedures can take time to recover from, the painless treatments we offer allow you to instantly continue your life with your new gleaming smile.
Anybody who is unhappy with their smile will suffer a lack of confidence because of it, but thanks to veneers you can feel more confident and will want to show off your new pearly whites.
Transform your smile with: Harley Street Smile Clinic
 If you've read all the advice above and you feel that porcelain veneers are the best choice for your needs, then the Harley St Smile is here to assist you through the whole process. While veneers are one of our most popular cosmetic dentistry options, you can also choose from other types of treatment including crowns and bridges, gum and tooth contouring, tooth whitening, and two tiers of "smile makeover" – the Mini Smile Makeover and the Full Smile Makeover. Many of these procedures can be used in conjunction with the application of veneers to achieve an even better result. Whatever treatments you choose, it's important to discuss your decision fully with a specialist. The experts who work with us are highly trained to give impartial advice to that end. On the Harley St Smile's website, you can receive a free quote and arrange a free dental e-consultation to make sure that you have selected a treatment that is right for you, that you know what can be offered and that you understand what to expect from the procedures involved. If you'd like to get to know us a little better, you can take a look at our client reviews and celebrity testimonials to see what others think of our services. You can also call 020 7486 6777 to talk to one of our highly trained experts and find out further information.
Make An Appointment
Upload your Photo
Request a call back
Should you wish to make an appointment or to see how treatment at Harley St Smile could transform your smile enter your details below and ideally send us a photo of your teeth with details of what it is you would like to change about them. We will then get in touch to talk through the treatments that we feel would be best for you. We will also discuss the costs of the services we provide and set you up an appointment with the most appropriate person to the treatment you require.